HOW DID YOUR NEIGHBORHOOD HOLD UP OVER THE LAST YEAR?
Presented by Brodie Zuk (Realty Executives Saskatoon) of www.SaskatchewanLiving.com
I ran into an amazing article on the cbc.ca website today ranking Saskatoon as the Healthiest City in Canada (among 10 other cities selected). It always feels good to be a part of such an amazing community.
I always love the end of the year because it allows us time to look back on where we came from, and to plan ahead for the future! In this email I wanted to give a visual summary of Saskatoon's housing market broken down into the single family home segment of Saskatoon's individual neighbourhoods. Why? Well, anything you read in the newspaper is a generalization of a segmented and very subjective market, and can potentially be very misleading.
When people ask me:" How's the market?", I usually ask them how much time they have, as "the Market" is very complex and diverse.
Over the last year, Saskatoon has had a slight decrease (-1.18%) in the average value of a home (This figure is up 6.70% over the last 5 years). Our market is very stagnate at the moment. My opinion on this is: "GOOD". With our economy being stagnate, it is good to see housing mirroring this. WHY? This means there is not artificially pent up demand going on. Separate from Vancouver or Toronto's housing market, housing in the conservative land of Saskatchewan seems to be traded as more of a necessity, as opposed to a speculative investment. We are less volatile because of this, we are safe, hell... we are HAPPY and HEALTHY too (see article above).
So..
How did your Neighbourhood hold up over the last 365 days? Take a look a the visuals below.
(*Note – I believe strongly in the Econometrics and the reasoning behind the methodology of the HPI Index. Because the index only compares data from exact resales, newer neighourhoods are omitted until there is sufficient data to present).
AREA 1 – Housing Price Index last 12 months – Single Family Home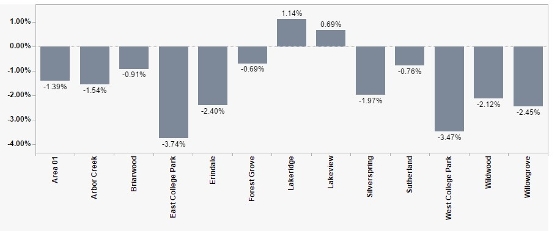 AREA 2 - Housing Price Index last 12 months – Single Family Home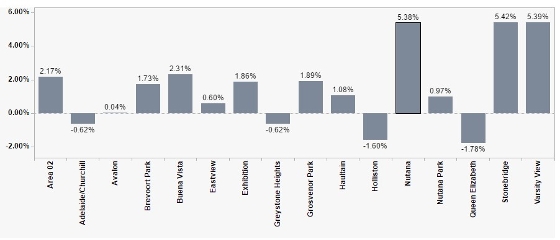 AREA 3 - Housing Price Index last 12 months – Single Family Home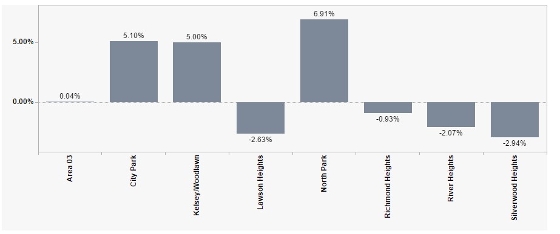 AREA 4 - Housing Price Index last 12 months – Single Family Home

AREA 5 - Housing Price Index last 12 months – Single Family Home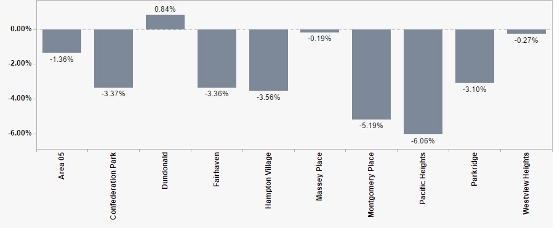 As you can see, the market truly is very diverse! Remember this is only for single family homes, as condo data is newer (Condos became more popular in the early 80s in Saskatchewan) and is less reliant for resale data (at the moment).
Hope you have found this information of VALUE and if you ever have any more Real Estate related questions, please let me know. HAVE A GREAT CHRISTMAS!
If you or anyone you know has any questions regarding this information please call or email! I would be happy to give the HIGHEST LEVEL of Professional service if you or someone you know is buying or selling their house! I love referrals!
I am always available to answer any questions or concerns regarding Real Estate in Saskatchewan! Remember I do Farm and Commercial real estate too!
Like me on facebook, I try and always keep my audience involved or stay up to date on my website at www.SaskatchewanLiving.com .
"Christmas is the spirit of giving without a thought of getting. It is happiness because we see joy in people. It is forgetting self and finding time for others. It is discarding the meaningless and stressing the true values."
-Thomas S. Monson